Today, the Organisation for Economic Cooperation and Development (OECD) announced that over the course of 2022 the members of the Development Assistance Committee (OECD–DAC) allocated USD 204 Billion to Official Development Assistance (ODA) and confirmed the anticipated significant impact of the war in Ukraine on aid allocations. "Foreign aid from official donors in 2022 rose to an all-time high of USD 204 billion, up from USD 186 billion in 2021, as developed countries increased their spending on processing and hosting refugees and on aid to Ukraine. The increase was primarily due to a sharp rise in spending on processing and hosting refugees within donor countries to USD 29.3 billion, or 14.4% of ODA, up from USD 12.8 billion in 2021." The largest increases were delivered by Poland (+255.6%), the Czech Republic (+167.1%), Ireland (+125.1%) and Lithuania (+121.6%).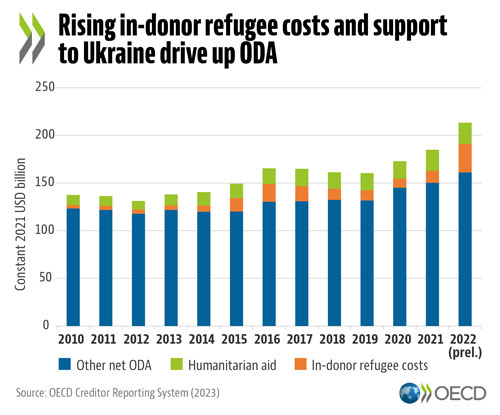 OECD-DAC CSO Reference Group (including Slovak NGDO Platform Ambrela) and CSO Partnership for Development Effectiveness prepared a Reference Group Statement for ODA Figures Release: 'It's not enough and it's not ODA: with global crises growing in scale and severity, ODA levels must match increasing needs for sustainable development'.
In 2022 we saw a 0.7% decline in bilateral ODA to Least Developed Countries (LDCs) compared to the previous year. The figures again fall well short of key targets of 0.7%/GNI. 
The impact is due both to the redirection of ODA to the humanitarian response in Ukraine, reconstruction and recovery and the substantial increase of in-donor country refugee costs across DAC countries which amounted to 14.4% of ODA in 2022. 
Counting in-donor refugee costs is voluntary in DAC statistical reporting of ODA yet 28 out of 30 DAC members reported already scarce ODA resources spent on hosting refugees in their countries. Countries can and should support the reception of refugees and asylum seekers, but the budgetary costs should be covered through alternative financing and budget sources to the ones already allocated to ODA. 
it is a complete departure from ODA's core objective of measuring donor efforts that contribute to sustainable development in developing countries. It risks undermining long-term development efforts, leaving marginalised people behind, and can have long-lasting global implications, including for peace and stability.  
ODA levels must match increasing needs and reflect a corresponding solidarity with marginalised people across the world. So DAC members might consider a proposal to create an Eastern Europe Assistance Tracker separate from reporting ODA flows. This Tracker would report all current and future humanitarian, development, fiscal and refugee support for Ukraine and other countries in Eastern Europe affected by Russia's invasion.